Knowaste closes UK site
Wednesday, 22 May 2013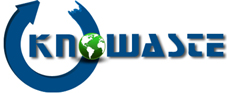 Knowaste is to close its current UK plant in West Bromwich with immediate effect, but says that having simply outgrown the location, it is now looking for a new recycling site in the West Midlands region.The West Bromwich plant is reported to have recycled 77 milion diapers since it opened in 2011, with recycling options including converting recovered nonwovens and plastics into timber decking and fencing, benches, bollards, railway sleepers and flood defence systems."Whilst the first ever operation of its kind in the UK has proven the concept for recycling absorbent hygiene products –...

Read More >>
| | |
| --- | --- |
| Tuesday, 06 December 2011 | |
The relationship between German manufacturer of automotive components Borgers and Volvo dates back to the early 1990s, but during 2011 a bigger contract than ever before has been secured for the supply of luggage compartments for a number of upcoming Volvo models.

The Borgers LowMass range features products that are not only completely, or for the greater part, recyclable, but also consist of up to 90% recycled materials to start with – such as shredded cotton or PET bottle fibres.

Nonwovens are the basis for all Borgers products, manufactured from both natural fibres such as cotton, jute and kenaf and synthetics, mostly from recycled raw materials.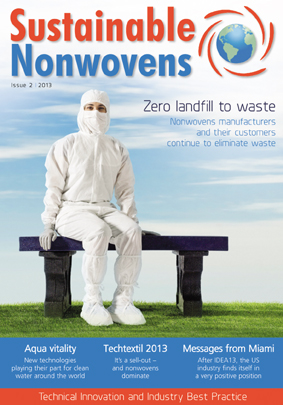 NEXT ISSUE
Distributed at
TECHTEXTIL 13

How US gas shale fracking will change the face of the global nonwovens industry. New uses for nonwovens in solar panels, water purification and energy storage. Why Europe and the US could miss out on the coming biopolymers revolution. Where sales of adult incontinence products will overtake baby diapers by 2015. The LCA software that is being tailored specifically to the needs of the nonwovens industry. All of the new developments showcased at IDEA13 in Miami.... and more!
CLICK HERE to subscribe to the printed magazine.

360 steps for each shoe...

Wednesday, 22 May 2013

A typical pair of running shoes – which can contain a significant amount of nonwovens along with other textile components – generates 30 pounds of carbon dioxide emissions according to a new...

Partners explore route to bio-SAP

Monday, 20 May 2013

Having earlier announced a partnership with Dow, OPX Biotechnologies, which describes itself as being in the business of 'good chemistry', is now linking up with Evonik Industries to jointly...


Read More >>

Read More >>

MORE NEWS
Sustainable case for local manufacturing

Tuesday, 14 May 2013

Some of the biggest issues currently impacting on the global nonwovens industry will be analysed and discussed at this year's Nonwovens Network UK conference, 'The Other Side of the Coin.'It takes...

The route to non-synthetic synthetics

Monday, 29 April 2013

Ten questions for Dr Harald Kaeb, bioplastics expert, Narocon.


Read More >>

Read More >>
Indorama casts a new $4 billion net

Wednesday, 10 April 2013

If, as is being predicted, the 25% of nonwovens being made from polyester filament spunbond are to rise to over 45% by 2030, the chances are much of it will no longer be supplied by the Chinese...

$20 billion market for Donaldson

Sunday, 10 March 2013

With record sales approaching $2.5 billion in 2012 and filter media accounting for 15-20% of its raw materials costs, Donaldson, headquartered in Minneapolis, Minnesota, USA, is a pretty significant...


Read More >>

Read More >>