Edana launches sustainability report
Friday, 27 February 2015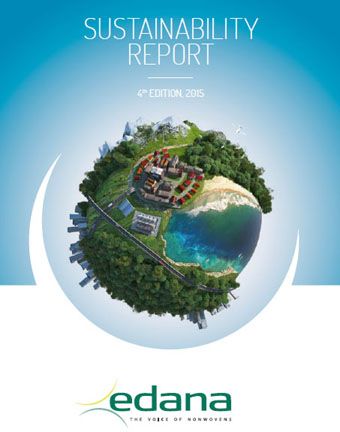 EDANA, the international association for the nonwovens and related industries, has today launched a new sustainability report at an event with European Union officials and industry stakeholders. This report seeks to highlight the efforts and success of nonwoven and related products manufacturers to pursue sustainability through production efficiencies, in-turn reducing energy demand and production waste. At the launch, EDANA member companies including Ahlstrom, Beaulieu, Corman, Cosmotec, Lenzing, NatureWorks, Rieter Perfojet and SCA showcased a variety of products highlighting the...

Read More >>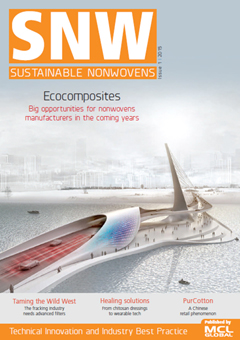 LATEST ISSUE

February 2015

A major new opportunity for nonwoven filters in the US is anticipated as a result of increased water treatment and re-use by the fracking industry.
Developments in the medical field have been coming thick and fast from Freudenberg Nonwovens recently – from chitosan dressings to advanced drug delivery systems and on to a role in wearable technology.
How RKW develops products which allow absorbent hygiene manufacturers to achieve more with less.
Winner Medical's successful leap into retail with PurCotton.
A London hospital is employing a new wireless vital signs 'smart bandage' cardiac monitor in an extensive trial.

And much more...

Carding addition for Groz-Beckert

Friday, 27 February 2015

Groz-Beckert is to further extend its portfolio by acquiring Belgium-headquartered Bekaert's Carding Solutions business, which specialises in card wires and clothing for short staple, nonwovens,...

Lydall sells Charter Medical

Friday, 27 February 2015

Filtration leader Lydall has sold Charter Medical to a subsidiary of Fenner PLC for $29.9 million. Charter is a designer and manufacturer of speciality single-use products employed in blood...


Read More >>

Read More >>

MORE NEWS
2014 As Quoted

Friday, 02 January 2015

"Consumers generally overestimate their own willingness to pay a premium for sustainable products. The products that objectively and directly benefit the potential buyer are more likely to be...

Addressing 'the elephant in the room'

Friday, 02 January 2015

With around seven million people already served by separate absorbent hygiene product collection systems in northern Italy, it's about to become a test bed for a new recycling scheme. Fater...


Read More >>

Read More >>
Beyond the car

Friday, 02 January 2015

EDANA Filtrex 2014: A big need for cleaner fuel is demanding more of nonwoven filter media, but can the automotive industry continue to grow as expected?

Agrofacturing and methane manipulation

Friday, 02 January 2015

Developments in the field of biopolymers – and particularly those that could serve as the components of absorbent hygiene products – continue at a rapid pace.


Read More >>

Read More >>