Suominen takes RISE innovation award
Thursday, 04 February 2016

Suominen's Fibrella Lite nonwoven product was announced as the winner of the Durable Product Award at RISE, INDA's engineered fabrics conference, held in New Orleans, USA.

Read More >>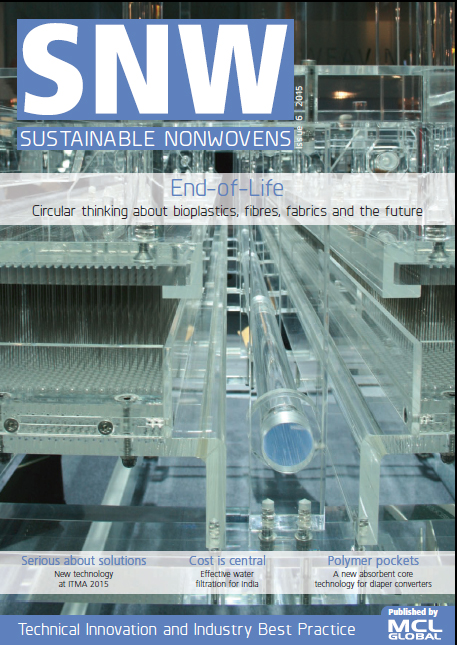 CURRENT ISSUE
Issue 6 2015

End-of-Life
Circular thinking about bioplastics, fibres, fabrics and the future.

The regeneration game
Old clothing for new cellulose.

Serious about solutions
New technology at ITMA 2015.

Cost is central
Effective water filtration for India.

Polymer pockets
A new absorbent core technology for diaper converters.

Movers and shakers
Review of 2015.

Taking technology moonshots
EDANA's 2015 Nonwovens Innovation Academy.

The soft option
Taking the guesswork out of fabric feel.
And much more....
Clarcor acquires TDC Filter Manufacturing

Wednesday, 03 February 2016

Filtration products manufacturer Clarcor has announced its subsidiary Clarcor Industrial Air division has acquired TDC Filter Manufacturing Inc., a US manufacturer and supplier of pleated filter...

New nonwoven site for JNC

Tuesday, 02 February 2016

Japanese fibres and chemicals manufacturer JNC Corporation is to establish new production facilities for air-through nonwoven fabrics at the Moriyama factory of its fibres subsidiary JNC Fibres...


Read More >>

Read More >>

MORE NEWS
Nonwovens - Year in Quotes

Friday, 15 January 2016

"If the risk of eternally being labelled and classified alongside textiles did not have far-reaching and expensive consequences in the way customs in many countries – protectionists by tradition...

SNW meets Jason Cooper, CEO, V-LAP

Thursday, 19 November 2015

So what's special about V-LAP technology in terms of nonwoven properties? V-LAP nonwovens have many special properties, but the most important are their flexibility in end-product utilisation....


Read More >>

Read More >>
Nonwovens for battery systems

Wednesday, 18 November 2015

Energy transition and trends in electro-mobility are demanding improvements in the materials employed in batteries for cost-effective and efficient energy storage. The use of nonwovens as separators...

Sustainable polyester conference

Tuesday, 17 November 2015

Over the last four years, the PCI Consulting Group has studied the sustainability aspects of the polyester industry. Calvin Woodings reports from the first PCI Polyester Sustainability Conference,...


Read More >>

Read More >>