Suominen opts for Bethune
Wednesday, 27 May 2015
Suominen has confirmed that it will invest in a new wetlaid nonwovens production line in its Bethune plant, South Carolina, USA. Since negotiations with machinery and service suppliers are still pending, the total cost of the project will be disclosed later, but the investment is expected to create at least 25 jobs at the Bethune plant. The new line will be installed during the second half of 2016. It constitutes the most significant single initiative in Suominen's €30-50 million growth investment programme launched at the end of 2014 and supports targeted growth during...

Read More >>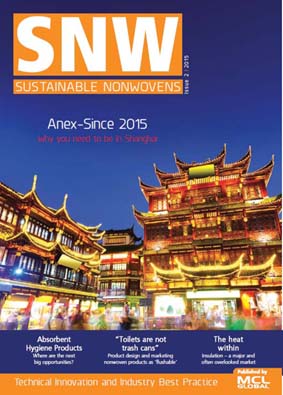 LATEST ISSUE

April 2015

Where to put the three-headed baby
The continuing difficulty of defining nonwovens.

Communicating the benefits
The wide range of activities and achievements in EDANA's latest Sustainability Report.

Absorbent Hygiene Products
Where are the next big opportunities?

"Toilets are not trash cans"
Influencing product design for flushable nonwovens.

Earthed, not grounded
New battery separators can prevent the fires responsible for grounding Boeing 787 Dreamliner aircraft.

Advanced filtration
New possibilities with additive manufacturing.

And much more...

FTC Nice-Pak release is misleading

Tuesday, 26 May 2015

A recent press release issued by the US Federal Trade Commission's Bureau of Consumer Protection – which asserted that nonwoven wet wipes manufacturer Nice-Pak had agreed to stop advertising...

New ranges from JM

Tuesday, 26 May 2015

Johns Manville introduced a range of new technical nonwovens at the recent Techtextil 2015 in Frankfurt, including a number for ceiling tiles based on glass fibres in filled, unfilled and coated...


Read More >>

Read More >>

MORE NEWS
Taming the Wild West

Monday, 23 March 2015

A major new opportunity for nonwoven filters in the US is anticipated as a result of increased water treatment and re-use by the fracking industry. The hydraulic fracturing (fracking) industry...

Disposables 4.0

Tuesday, 17 March 2015

Without a doubt, wearable, sensor-containing new technologies are set to become the next wave of hygiene and healthcare disposables which the nonwovens manufacturing supply chain needs to be very...


Read More >>

Read More >>
Taking it to China's consumers

Wednesday, 11 March 2015

PurCotton is rapidly becoming a household brand in China following Winner Medical's move into retail five years ago with products such as cotton tissues, household textiles, maternity wear and...

Positive plastics progress

Monday, 09 March 2015

As a developer and producer of both films and nonwoven solutions at 23 locations around the world, RKW entered 2015 with a number of important new initiatives already underway. These include...


Read More >>

Read More >>