Flush with success!
Wednesday, 04 December 2013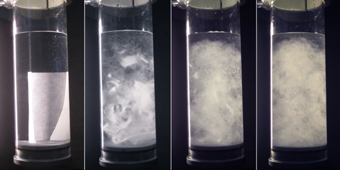 In a jointly-developed new production process, Voith Paper and Trützschler have successfully produced nonwovens that adhere to the latest INDA and Edana Flushability Guidelines and consequently have been certified as 'flushable'.For nonwovens manufacturers, such products that can be safely disposed of in toilets are currently a small but economically rewarding and growing market segment. Strong demands, however, are made on the structure of such materials – they have to be strong enough for cleaning while successfully dispersing in the sewage system or the environment after disposal....

Read More >>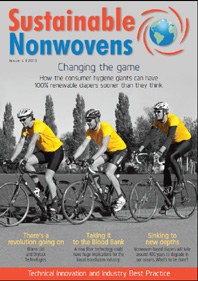 NEXT ISSUE
Out December 10th

There's a revolution going on – blame Lidl and Drylock Technologies. Can we claim the dollars as nonwoven materials? A third of the infants in the world are now in just three countries and the disposables industry is reacting accordingly. A 3D printing project wants nonwovens from silk swarms. Nonwoven-based products will take around 400 years to degrade in our oceans – what's to be done? How the consumer hygiene giants can have 100% renewable diapers sooner than they think...and more!
CLICK HERE to subscribe to the printed magazine.

Academy closes the loop

Wednesday, 04 December 2013

EDANA's Nonwovens Innovation Academy which took place from November 27-29 in Tourcoing in France 'closed the loop' of a seven-year cycle around European Centres of Excellence for these...

The animated world of nonwovens at INDEX 14...

Wednesday, 04 December 2013

A series of amusing and highly informative animated films have been prepared about the industry to promote the forthcoming INDEX nonwovens show which takes place from April 8-11 in Geneva,...


Read More >>

Read More >>

MORE NEWS
Ringing the changes at P&G

Tuesday, 19 November 2013

In its just-released 2013 Sustainability Report, Procter & Gamble hints at big changes ahead in respect of its commitment to replacing 25% of its petrol-derived raw materials with renewable...

Recycled carbon replacing glass

Friday, 15 November 2013

Technical Fibre Products (TFP) is now successfully recycling carbon fibre composites into high value nonwovens.The company, which is based in Kendal, Cumbria, UK, and also has a US plant in...


Read More >>

Read More >>
The 'chicken and egg' for biopolymers...

Monday, 28 October 2013

Unlike biofuels, biopolymers are currently subject to prices more truly representative of their overall production costs.Meanwhile, in Europe, the policy debates around issues such as GMOs –...

Keeping in circulation

Sunday, 27 October 2013

What would happen if a total ban on the landfilling of textiles and clothing was introduced?This is something the UK's Department of Environment, Food and Rural Affairs (Defra) is currently...


Read More >>

Read More >>