Toray doubles capacity in Indonesia
Friday, 19 December 2014
Toray Industries is to add another spunbond polypropylene line at its subsidiary Toray Polytech Jakarta (TPJ) in Indonesia, as demand for absorbent hygiene products shows no sign of abating in the ASEAN region. The line, with an annual capacity of 18,000 tons, is scheduled to start operating in September 2016. It will give TPJ a total annual capacity of 37,000 tons and see the Toray Group's worldwide capacity for spunbond climb to 153,000 tons. Toray is predicting that the demand for PP spunbond in ASEAN will grow to 660,000 tons per year in 2016 from 493,000 tons in 2013 and to...

Read More >>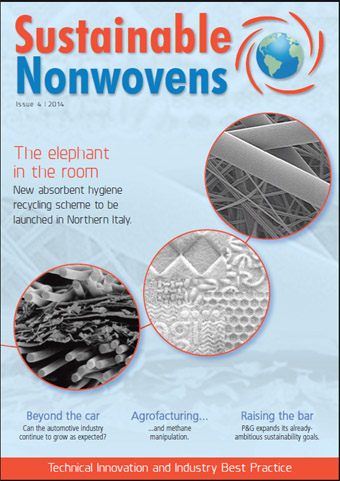 NEXT ISSUE

December 2014

'Agrofacturing' and methane manipulation. Developments in the field of biopolymers – and particularly those that could serve as the components of absorbent hygiene products – continue at a rapid pace.
Why the nonwovens industry should further disentangle itself from its association with the general textile industry.
How Northern Italy is about to become a test bed for a unique new recycling scheme.
A big need for cleaner fuel is demanding more of nonwoven filter media, but can the automotive industry continue to grow as expected?
Why a holistic approach is now necessary in absorbent core construction.
And much more...

Few options to landfill

Thursday, 18 December 2014

The biodegradation of suitably-treated plastics in landfills makes sense. This will be the core message of Charlie Lancelot, president of XCaliber Associates at the forthcoming INDA RISE...

No water – or plasma

Thursday, 18 December 2014

The dry finishing of textiles and nonwovens has received much attention recently, due to its potentially game-changing promise of cutting water consumption out of the equation, but while the...


Read More >>

Read More >>

MORE NEWS
Ten questions for...

Friday, 31 October 2014

...Tobias Schäfer, General Manager, Andritz Küsters, and Frederic Noelle, R&D Manager, Andritz Perfojet

Attention to detail

Friday, 31 October 2014

Production processes that are more efficient while at the same time conserving resources are paramount at Norafin. With its 150 employees, the company produces high-quality speciality nonwovens...


Read More >>

Read More >>
Considering conversion

Friday, 26 September 2014

A new LCA study indicates significant benefits in the production of wipes substrates with Teknoweb's Arvell technology. A wet wipes substrate currently accounts for between 65-70% of costs...

Closed loop care

Thursday, 25 September 2014

A flagship European hospital is showing the way forward with waste – and its success points to big opportunities for manufacturers of renewable nonwovens.


Read More >>

Read More >>