Cutting energy by 94%
Thursday, 26 November 2015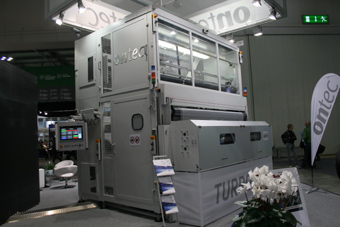 The Turbotex system, developed by Ontec Automation, based in Naila, Germany, makes scrims direct from either creels or beams and in a single pass can laminate them to either nonwovens or films. As such, the resulting materials are ideally suited for technical applications in construction, packaging, geotextiles, insulation and floorcoverings and the advantages of the process are considerable, explains Managing Director Volker Rossner. "Our system uses just six per cent of the energy required to make such scrims by weaving, and additional finishing of these products is...

Read More >>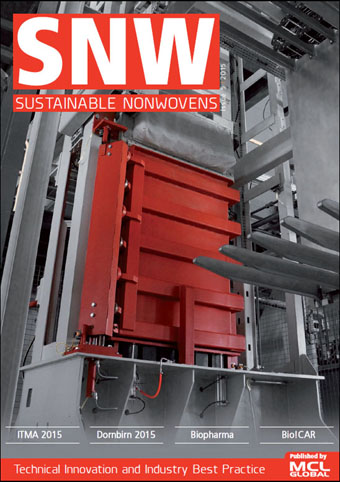 LATEST ISSUE
October 2015
Heavyweights in Milan
The leading manufacturers of nonwovens machinery at ITMA 2015.

Bio!CAR 2015
Increasing the acceptance of natural and bio-based materials by the automotive industry.

Further charges
The performance-enhancing needling of nonwovens for today's battery separators.

Single-use purification
Nonwovens for the processing of therapeutic proteins.

Smog harvesting
Turning carbon dioxide into cheaper carbon fibres.
Sticking to purpose
The latest investment in product development by adhesives leader H.B. Fuller.
And much more....
FET up for Innovate UK award

Thursday, 26 November 2015

Leeds-based FET has been shortlisted in the inaugural Innovate UK Small Business Innovation Awards for its Suture Plus project. The awards, run by the UK's innovation agency, Innovate UK, recognise...

Genomatica and Braskem BDO

Wednesday, 25 November 2015

Bioengineering company Genomatica and thermoplastic resins producer Braskem have announced the successful lab-scale production of butadiene (BDO) from renewable feedstocks. BDO is a raw...


Read More >>

Read More >>

MORE NEWS
SNW meets Jason Cooper, CEO, V-LAP

Thursday, 19 November 2015

So what's special about V-LAP technology in terms of nonwoven properties? V-LAP nonwovens have many special properties, but the most important are their flexibility in end-product utilisation....

Nonwovens for battery systems

Wednesday, 18 November 2015

Energy transition and trends in electro-mobility are demanding improvements in the materials employed in batteries for cost-effective and efficient energy storage. The use of nonwovens as separators...


Read More >>

Read More >>
Sustainable polyester conference

Tuesday, 17 November 2015

Over the last four years, the PCI Consulting Group has studied the sustainability aspects of the polyester industry. Calvin Woodings reports from the first PCI Polyester Sustainability Conference,...

10 questions for...

Tuesday, 03 November 2015

Sustainable Nonwovens spoke to Dr Stephen Russell, director, Nonwovens Research Group at the University of Leeds on the relationship between academia and nonwovens companies, nonwovens...


Read More >>

Read More >>