Enka Tecnica joins Reifenhäuser
Friday, 17 April 2015
The Reifenhäuser Group is to acquire its longstanding supplier Enka Tecnica, the German spinneret manufacturer. In addition to spinnerets for nonwovens, which is of particular relevance for Reifenhäuser, Enka Tecnica also supplies them for wet, dry and melt spinning, along with other micro components. "With Enka Tecnica we can accelerate future development in the area of extrusion tools and further establish our leading market position in the field of nonwovens," said Reifenhäuser CEO Bernd Reifenhäuser. "Our goal, however, is to achieve growth in all of Enka Tecnica's...

Read More >>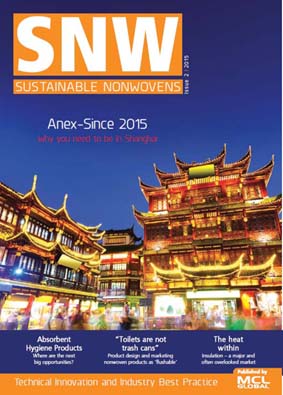 NEXT ISSUE

April 2015

Why do you need to be at the Anex-Since 2015 exhibition which takes place in Shanghai, China from May 13-15? Simply because nowhere else will you feel that tangible sense of opportunity waiting just around the corner.

New battery separators can prevent the kind of fires that were responsible for grounding Boeing 787 Dreamliner aircraft in 2013 and are now very rapidly to be commercialised.

A nonwovens manufacturing company that until recently has been little known outside its native China had no less than three of its materials selected for the 2015 ISPO Textrends Fibres and Insulations Top Ten at the recent sportswear event held in Munich, Germany. This put the company a nose in front of long-established heavyweights such as 3M, Polartec and PrimaLoft and is a story that begins with a man on a tricycle shuttling urgently through the garment district of ShiShi City in China's Fujian Province back in the late 1990s.

And much more...

Trevira at Techtextil

Tuesday, 21 April 2015

In 2014, 46% of all filaments and fibres made by Trevira were used in technical applications and at the forthcoming Techtextil show in Frankfurt from May 4-7, the company will be seeking to...

Calender combination

Monday, 20 April 2015

One of Germany's leading textile finishers, Textilveredlung an der Wiese GmbH (TVadW), based in Lörrach, has installed a new calender line, which its manufacturer Andritz has developed based on...


Read More >>

Read More >>

MORE NEWS
Taming the Wild West

Monday, 23 March 2015

A major new opportunity for nonwoven filters in the US is anticipated as a result of increased water treatment and re-use by the fracking industry. The hydraulic fracturing (fracking) industry...

Disposables 4.0

Tuesday, 17 March 2015

Without a doubt, wearable, sensor-containing new technologies are set to become the next wave of hygiene and healthcare disposables which the nonwovens manufacturing supply chain needs to be very...


Read More >>

Read More >>
Taking it to China's consumers

Wednesday, 11 March 2015

PurCotton is rapidly becoming a household brand in China following Winner Medical's move into retail five years ago with products such as cotton tissues, household textiles, maternity wear and...

Positive plastics progress

Monday, 09 March 2015

As a developer and producer of both films and nonwoven solutions at 23 locations around the world, RKW entered 2015 with a number of important new initiatives already underway. These include...


Read More >>

Read More >>